Hello Darlings! We are thrilled to be back from family and hurricane issues. For those of you who also dealt with the aftermath of all the storms this year – we salute you. It's been rough – and we all deserve a toke or two.  Which brings me to today's main topic. The holidays are coming! We have rounded up the luxury items that take your marijuana moments to the next level, listed from stocking stuffers to all our decadence below. Especially after 2017's shit show, we all deserve some luxe in our lives.
STOCKING STUFFERS 
I am madly in love with EVERYTHING on the Sweetflag website. It is stylish, natural and speaks to my glam hippie side, so for sure I will be placing some orders this year. They have something for everyone at every price point, beginning with this fashionable Rainbow Rolling Papers for only $10.
You know what isn't luxurious? Wet rolling papers. Saliva and smoking don't have to mix. Purchase one of the Elevate Joint Tips to make your next hit heavenly.
Make rolling, bowling (see what I did there? lol), and grinding on the go easier with this perfect little stocking stuffer. Tokyo Smoke has been all the rage this year as the one-stop-shop chic artisan pieces and most popular is the Tokyo Smoke Grinder Card that fits in your wallet, and grinds your flower anywhere you are. The grinder card is only $10 in white, but we are in love with the upgraded rose gold card for only $15.
And of course, where there is green, there is fire and Tetra makes some beautiful lighters in a variety of finishes that can easily be added to the perfect smoke-centric stocking. $10-$40+
EDIBLES AND BAKING ACCESSORIES 
If you prefer edibles to smoking, you probably own a MagicalButter Machine. If you don't – get one stat. If you do – you'll want to check out their line of cooking accessories, including my favorite – the DecarBox. It isn't fancy, but it makes life easier, and all the green bakers on your list will thank you. Throw your herb into this box and it retains maximum potency while telling you, on an easy digital display, when your buds are ready! $34.95
You deserve the best, and if you're cooking with cannabis, that means LEVO. This is oil infusion to the next level. You are not going to want to give this away. Buy one for yourself this year! $200
For those friends who don't live in states where you can legally consume, bake or ship cannabis infused edibles, Lord Jones offers their Old Fashioned High CBD infused gummies. Their candies are delicious and make a perfect gift! $45
Of course candies make great hostess gifts as well, which brings us to…
GIFTS FOR THE HOME AND HOSTESS
If you've been reading the blog, you know I am not a fan of decorating my home (or clothing) with marijuana leaves and other obvious symbols of my cannabis enthusiasm. However, I am a BIG fan of beautiful homages to Mary Jane, and Fine Art America has many gorgeous paintings and prints at a variety of price points. Perfect for your home, or to give as a gift. $15-$2,000+
Why cover-up the lovely smell of cannabis? Enhance it with the Malin+Goetz Cannabis Candle. Fig, pepper, orange, sandalwood, patchouli and more mix to create a beautiful earthy ambient scent. $54
The Enubi for Mister Green Wake and Bake Cup is my new favorite way to start the day, and it is a lovely hostess gift as well! $65
TOTAL DECADENCE
Do you NEED a fancy little gadget that perfect grinds and proportions out the right size bowl every time? Yes, yes you do, and PenSimple does just that. Less mess and hassle, and your friends will be highly impressed. Give as a gift, but buy two because I promise you you'll want one! $60
2017 was the year of the vape, and Firefly 2 got ALL the raves, even being called the "iPhone of vaping". Portable, handheld and with a beautiful design, you have to see what all the buzz is about. Seen below in black but it comes in a ton of colors and finishes. $329.95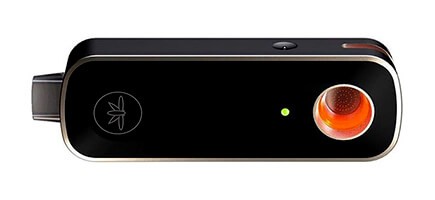 Give the gift of knowledge – cannabis cultivation knowledge that is – in a chic and sleek package along with a cultivating starter kit. Three A Light by Joshua Haupt has been called "not just a book, but a business model", so if you're looking to grow your own, perhaps this holiday season is the time to start. $500
Smoking style in snake skin. Does it get any better? Jacquie Aiche's Sweet Leaf Snake Skin Clutch comes equipped with a space to hold cards and your ID along with blunt holders and a snake print covered lighter. This is a stiletto stoners dream gift. $2,400.
You may not have a full room to dedicate to hydroponics, but if you have a closet and a little over $3K you can be a grow master in no time with Hydrobuilder's Super Closet LED Deluxe 3.0. $3,040.
And this year, Club M currently takes the award for the most expensive cannabis gift of the year with their 24K MBox. It is valued over $24,000 and only 5 are available. If you purchase one – please comment and share!